Female Leadership BOOTCAMP
It is time to be YOU – with your vision, values and purpose!
To create a better working world we need more authentic and inspiring women with an inner compass relying on their superpower.
Be strong from inside out and walk YOUR path – even in turbulent times
A truly transformative Female Leadership BOOTCAMP – to finally show the world what you are made of!

The FEMALE LEADERSHIP BOOTCAMP
in a nutshell
It is quick, powerful and straight-forward for a great impact for you as a person, your personal and professional life in a short time.
Just go for it!
You want to reflect your personal and professional life quickly – like a sprint with a focus on you as a human being, your personal and professional life?
We are doing personal reflections, elevator pitches and go one layer deeper – for you to learn who you truly are and trust yourself with your talents, purpose and visions.
Of course you will develop an action plan with goals and strategies.
During this week you will be part of a closed user group and receive daily nuggets and self-learning videos adjusted to your wishes and needs.
Learn as you wish.
what are your current challenges?
You are ready for a change but still looking for the direction?

You feel this dissatisfaction within yourself and know that you are longing for a change?

You are in any kind of transformation or change process like coming back from parental leave or looking for a new job?

You feel torn between expectations of the others
You feel this small or big piece of dissatisfaction within yourself and know that you are up to more
You want to be a great leader and role-model and want to learn HOW

You know that you are up to more?

You want a recipe for working on your career AND being a great mom
Too often you feel self-doubt and judge yourself for not being enoug

You are just so exhausted and tired from these two panedemic years and all the outside insecurities?
Then join us for this truly inner
FEMALE LEADERSHIP BOOTCAMP
with the focus on YOU and your personal development to open a new chapter by finding your inner compass!
It is based on the Self-Managing Leadership (SML) Program with almost one million participants having discovered their values, vision and purpose. They are proving that it is possible to enjoy professional AND personal success by find your Inner Compass and walking your authentic path.
Find more to Oxford Leadershiop
Female Leadership Development – when, if not now?
Learn LEADERSHIP by MINDSET and how to trust yourself every day a little bit more
Get insights about your supporting patterns in life and what is holding you back
Learn how to make better choices by being a 'DETACHED OBSERVER'
Develop and strengthen your intuitive, emotional, and social intelligence
Believe in your own superpower and leverage on your core strengths and qualities
Focus on the few things that will make the biggest difference in your life
Create breakthrough goals and an action plan to execute them
"It is time to show the world what you are made of!"
FEMALE LEADERSHIP – is this program for a great development and transformation something for me?
YES, if …
… you are longing for a change in your professional and/or private life ?
… you feel this dissatisfaction in yourself and need something new but dont know the direction yet ?
… you are in a change process and need a "new recipe" for juggling a new role, a different position in a new company ?
… you are running in your hamster wheel and "just functioning". Press the pause button and have time to reflect and start a new chapter ?
… you have enough of your own high expectations and the supposed perfectionism.
… you want to find you own superpower, your talents and strengths you are always able to rely on ?
Let's find out together if the Female Leadership Bootcamp is the right tool for you!
Female Leadership for YOU – in a nutshell:
Sign up to this unique and powerful program for women, mothers & leaders – to thrive in life and business
After attending this program, you strengthened your Inner Compass knowing your

+ personal values

+ purpose and

+ vision.

+ You developed the road-map for a new chapter in your life.

We are looking forward to support your transformation as a strong woman and a valued human being reflecting your individual personality.

Bilingual (german AND english)
ONLINE
17, 19, 21 and September 2023
every day from 4pm-7:30pm
Investment: 950 Euros (net, excl. VAT)

From time to time we offer a special price – just get in touch to get the details 🙂
Including all materials, tons of know-how and all we have to offer!
JUST BE YOU !
We need more great women for the change we want to see in the world! 
Our promise to you!
We have been there, as leader, woman and mom.
We know the pain, we know the gain.
And with all our talent, expertise and heart we are eager to inspire you and your female trailblazer to step up and lean in to accelerate a sustainable future for yourself, your entity and society.
Who is going to support you in this FEMALE LEADERSHIP BOOTCAMP?
Maren has extensive experience in Business Coaching and training in international companies.
She is a Top 20 Business-Coach in Vienna in 2021 and certified as PCC by the International Coach Federation.
Her focus and clarity in combination with a high regard for people leads to inspiring results.
Her main talents lie in realizing and strengthening unique talents and the courage to trust your intuition.
She as been recognized for providing in depth know-how on Women and Leadership and building trustful and sustainable relationships with people.
Maren lives in Vienna and is a mom of 3.
Are you ready to sit in the driver's seat of your car and not linger in the passenger seat or trunk – so that your life doesn't just "happen" to you, but you yourself make decisions within your circle of influence and control it with the steering wheel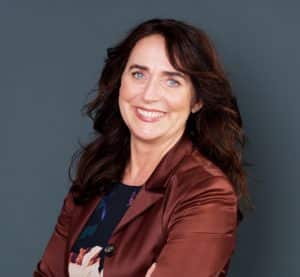 German by nature, Californian by heart – that promises an unusual approach in all Eve Simon does – as a transformational consultant, executive coach, key-note speaker and serial entrepreneur.
With a systemic perspective and diverse knowledge and expertise in Marketing, Business Development, Innovation, Leadership and Personal & Cultural Growth she merges different viewpoints into new solutions.
She holds a Master degree from Switzerland besides various other certifications in coaching, mindfulness and agile methods; leading divisions in corporate for 14 years and running her boutique consulting firm since 2005.
Eve lives currently with her daughter in two continents – Silicon Valley and Germany
We are looking forward to hearing from YOU!
ARE YOU STILL UNSURE WHETHER THE FEMALE LEADERSHIP PROGRAM IS THE RIGHT TOOL FOR YOU?
Hmm, good question … But imagine …
What happens if you continue as before and everything stays the same
OR: You change something, because you know: "Insanity is doing the same thing over and over and expecting different results!"
You continue your current path and way of life – how will you feel in five or ten years?
OR:

You get behind the steering wheel of your vehicle and lead a life with confidence in yourself and a good feeling where to go, because YOU want it that way
You know in your head, heart and gut that you need a change to be truly happy and live the life you want to. But you are afraid and scared what lies ahead.
OR: You continue to take responsibility for yourself and your life with ease and composure and know: I can't change the wind, but set the sails differently?
You keep cramming your days so full of to-do's and chores that there's no time for yourself. You feel tired, drained and exhausted?
OR: You know that your day only has 24 hours, and you plan it realistically, according to your current life situation?
YOUR FEMALE LEADERSHIP BOOTCAMP IS READY FOR YOU!
I AM LOOKING FORWARD TO HEARING FROM YOU!
FEMALE LEADERSHIP BOOTCAMP: STILL HAVE QUESTIONS ABOUT THE PROGRAM?
Let's talk and answer your open questions. Together we will see if the FEMALE LEADERSHIP BOOTCAMP is the right tool for you.
Send me a message by email to maren@femalewakeupcall.com.
Or book an appointment for a free strategy talk right away!