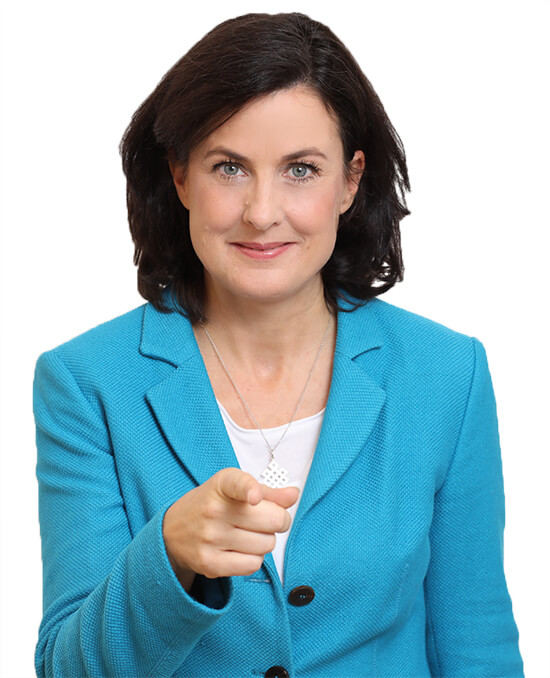 Female Leadership
with the FEMALE WAKE-UP CALL Booster
6-week booster coaching for female leaders: Learn real female leadership!

6-week group program for a BOOSTER for you, a Female-Power-Firework for your professional success – and for you as a personality and woman! Pure female leadership.
Because in the working world of tomorrow, we need genuine role models who can authentically lead themselves and their employees and are real leaders.
Is the Booster Coaching for more Female Leadership something for me?
You have great professional ambitions. You want to go far and work hard for it – often too hard!
You doubt your abilities and think to yourself: "I'm not good enough!" or "The others are much better than me!"
You work in a male-dominated team and feel like an "alien".
You are dissatisfied because your manager does not recognize your potential.
You know what you don't want and focus too much on problems and negatives.
You feel overwhelmed by conflicts and cannot show your boundaries.
You have the feeling that you always have to fulfill the expectations of others.

If your answer to these questions is YES, then it's time to…
Find confidence in your abilities and talents
Learn female leadership
Develop your personal leadership style to be able to lead authentically
Define success factors for your professional success as a woman
Tackle mindset work for less "unconscious bias"
Focus on changes in your own sphere of control and develop the necessary mindset
Finding the balance between taking responsibility and delegating
This booster coaching program is for female leaders who are ready to take the next step – for personal and professional development and Female Leadership with a credible, reliable and feminine leadership style.
Lots of fun, enthusiasm and positive energy are guaranteed!
FEMALE LEADERHIP: Booster coaching for women – how can it help me?
You have high expectations of yourself
You have difficulties in balancing family and career
You doubt yourself all the time
You find it difficult to say NO and to set a limit for others
You do not pay attention to yourself and your own needs and desires
You are therefore constantly stressed and tense
You are tired of always having to do everything by yourself
You have the feeling that you are not getting anywhere and that you are losing yourself
What the Female Leadership Booster Coaching contains
The Booster coaching for Female Leadership takes 6 weeks and includes:
+ weekly short videos with theory, know-how and input on the topic blocks, which you can watch at any time in the library.
+ Workbook with exercises, time for self-reflection and inspiration.
+ Two individual coaching sessions ONLY for you. We address your current challenges and goals together and individually and find solutions that fit you and your current life situation.
+ Weekly group calls with my support
In these weekly group coaching calls, the provided content is explored and discussed in more depth. We reflect together and discuss in an open and intimate setting about topics that concern us. Fun, reflection, depth and lightness can all be found here
+ Inspiring wake-up calls in between
You will always receive Female Leadership inspirations from me in between – in the form of sayings, YouTube videos, texts and much more.
In addition, you will receive a buddy with whom you can regularly exchange ideas.
Feedback from my clients in recent Female Leadership Programs:
Customer testimonial
Violeta, mother of 2 children, single parent working in a male dominated company.
In the training and the personal conversations with Maren I received valuable suggestions to deal with my personal life values and to become aware of my roles.
The most formative phrase that hit the mark with me was: "I am also allowed to take it easy" has changed my perspective on some situations/things and often helps me when I am dealing with challenges. Thank you Maren!
Customer testimonial
Petra, manager in an international company, full time employee and mother of 2 school children.
The program helped me to focus better and to analyze my own strengths.
Learning the energy patterns was extremely helpful for leading employees and also in general for dealing effectively with the other person.
The feedback and buddy system helped me to reflect on my self-image and the effect I have on others.
Thank you – I would do it again anytime!
Customer testimonial
Elisabeth, mother of 2 children, who has accepted a new professional challenge after many years.
I would like to thank you very much! You totally helped me at a time when I really didn't know how I wanted to develop.
I can totally recommend the course to every working woman with children. In a time of uncertainty, it gave me confidence in myself and my abilities. I wanted to try something new, to develop myself personally and professionally, and the training helped me a lot.
Many things became clearer to me and I got more control over my work life balance.
The individual coaching then gave me the turbo boost!
This is what my clients once wrote down for me …
COMING SOON –
Your FEMALE WAKE-UP CALL Booster!
… Your way to more Female Leadership … 
Be among the first to be informed about the launch:
(just fill out the form and send it :-))
Your life coach for women :
Maren Wölfl
The woman behind the FEMALE WAKE-UP CALL
Maren Wölfl is a
Professional Certified Coach
(PCC) according to the International Coach Federation and an ISO Certified Trainer and Coach according to EN ISO 17024.
With many years of training and further education, she offers an enormous asset of methods and experience and a large suitcase of tools that can be applied depending on the problem.
She is a registered mediator in the list of the Federal Ministry of Justice, a mental trainer, trained in hypno-systemic concepts and personality models according to Milton Ericsson.
She has also completed leadership trainings in Paris and Amsterdam. The training in dare-to-lead trained (according to Brene Brown) and Lego Serious Play complete her versatile profile.
After many years in management positions in international brand companies at home and abroad, Maren has been life coach for women, mothers and leaders for 15 years.